Sunset
Graphic Lit
presents
The Conjuror Zero

FREE Previews of
The Conjuror Zero -
Issues Zero, 1, 2, and 3:
For a limited time,
while we promote
comiXology's Guided View™,
safely DL action-packed PDFs of
And, the super-charged
climax to Book 1,
Binge reader? View the full
graphic novel in
a single, supersized PDF: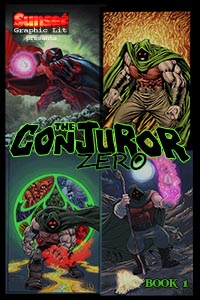 Using Adobe to read those PDFs?
We recommend Single Page View to take full advantage of
Ash's spectacular 2-page spreads.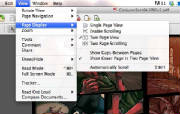 THE LATEST
ComiXology has completed their
Guided View
™
for Issue 1!
So, big thanks Submit Team!
This link -
- will lead you to
Comixology's
Guided View™,
it adds an exciting, new dimension
to the comic-book experience.
The PDFs at the top of this page don't have Guided View™,
but they will remain available (FREE!) for a short while.
Expect Guided Views™ of Issue 2 in July.
Zero and 3 will follow quarterly at comiXology.
If all goes well, Kickstarter is our next stop.
We're looking to finance the print issues that will, hopefully,
fund the next round of artwork.
The print versions might see an
incentive cover by the inimitable
He's under contract, but should be available within the year.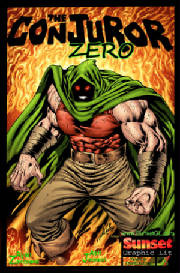 On a somber note, we extend our deepest condolences to
the family of Al Rio.
There are still a few copies of
Kenneth the Conjuror
Issue Zero available.
In South Florida and Southern California,
you might still be able to pick it up at your
Not in SoFlo or SoCal? Still gotta have that feel of
ink on paper? Contact me :)
Check out our first review. Courtesy of

Plotting is going full steam on a series of one-shots under
the working banners of
The Conjuror Zero:
Around the Edge of the World
and
Tales of the OtherWorlders:
OtherWorld Pirates of the Terran Seas.
PROFESSOR KRUSHER, Kenneth's closest confidante,
has secrets of his own. A preview of his
Krush Suit
generated lots of excitement at the cons.
Professor Krusher will have his own story -
along with the Angels and the
rest of the mythical misfits stranded on Earth -
in the upcoming anthology,
Tales of
On your laptop, try the 2-page view (with cover page).
Click on the image, above, to view
a screenshot of the appropriate dropdown settings.

The Art of Issue 1
The Art of Issue 2

THANKS!

On behalf of Writer/Creator Ryan Zambrano and Artist Ash Jackson -
The new website is coming eventually. In the meantime, to contact SunsetGL,