Sunset G L
presents
The Conjuror Zero

FREE Previews of Issues Zero, 1, 2, and 3:
For a limited time, download updated PDFs of
and the art of giant-sized cliffhanger,
Issue 3
.
Yes, in that order.
More issues are coming soon, as we prep for digital distribution.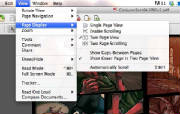 Using Adobe Acrobat to read those PDFs?
Try the 2-page view (with cover page).
Click on the image, above, to view
a screenshot of the appropriate dropdown settings.
Alternatively, we still recommend our thread at the Duck Webcomics,
despite the Duck's
recent server problems:

The Art of Issue 1
The Art of Issue 2

THE LATEST
STATUS: project slowly moving forward.
SunsetGL is moving its headquarters, and
all capital has been diverted to the purchase of a home.
The Conjuror's story, however, keeps brewing.
Look for the first 3 issues to move to digital distribution.
As the dust settles around here,
2014 is likely to find Kenneth the Conjuror's latest home,
Sunset Hills, up to its hilltops in Demons.
Check out our first review. Courtesy of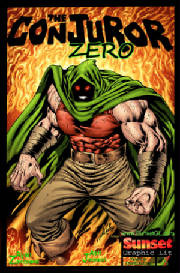 On a somber note, we extend our deepest condolences to
the family of Al Rio.
There are still a few copies of
Kenneth the Conjuror
Issue Zero available.
In South Florida and Southern California,
you might still be able to pick it up at your
Not in SoFlo or SoCal? Still gotta have that feel of
ink on paper? Contact me :)

Pages of Issue 3 are prepping for letters.
Plotting is going full steam on a series of one-shots under
the working banners of
The Conjuror Zero:
Around the Edge of the World
and
Tales of the OtherWorlders:
OtherWorld Pirates of the Terran Seas.

PROFESSOR KRUSHER, Kenneth's closest confidante,
has secrets of his own. A preview of his
Krush Suit
generated lots of excitement at the cons.
Professor Krusher will have his own story -
along with the Angels and the
rest of the mythical misfits stranded on Earth -
in the upcoming anthology,
Tales of

On behalf of Writer/Creator
Ryan Zambrano
and Artist
Ash Jackson
-
Thank you for joining us on the ground level of the Conjuror's epic adventure.
The running joke around here is:
The new website is coming soon. In the meantime, to contact SunsetGL,